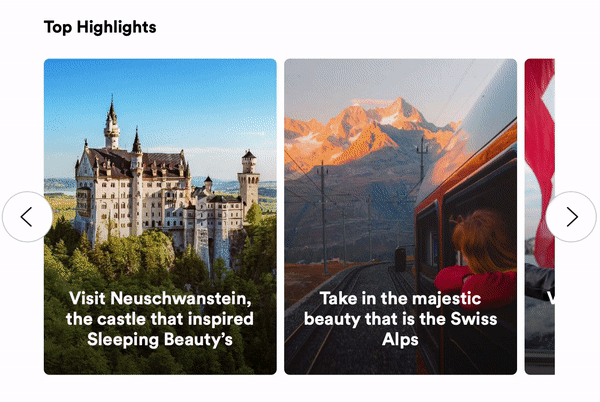 Conclusion
Interning at EF was one of the most valuable and humbling experiences I've had in my college career. It taught me the importance of proactivity, and that especially as a woman in the creative field, initiating and speaking up can get you very far. I wish I'd known that earlier.
My favourite projects were definitely the ones for Black Friday/Give Travel Tuesday and the December holidays. It was such a hectic month, but we produced more than we thought we could in a short amount of time. The brainstorm sessions for Black Friday were really the first time I saw how creative everyone was and how well this team worked together. We came up with ideas like travel quizzes, travel stones, a giant EF bucket installation people can write their literal "bucket list" on, and breaking a world record (I think we settled on breaking the record for the tallest stack of crepe ever made. It is currently zero.)
Give Travel Tuesday and the holiday email were my first fully self-initiated projects. I was able to start from scratch and create assets and prototypes in a completely different style than what we had done before. It was used for the main website, Instagram stories, emails, and more. (Only a few examples are shown here because this is an ongoing project.)
Some takeaways:
• When you see a window of opportunity for a project, take it. I found myself much happier and more excited about what I was doing, and as a result more productive when I started proposing ideas and asking for projects to work on.
• Think outside the box when solving a business problem, don't just make things look pretty, and communicate! Bouncing ideas off each other is the best way to come up with something cool. Start crazy, refine later.
Services

UX Consultation
Web Design (CMS & Responsive)
App Design (Mobile & Web)
Branding & Identity
Art Direction
Illustration
Print Design
Experience

Red Hat | IBM
—May '20–Present

Bain & Company
—May–Dec '18

Fiona Lin Design: Select Clients
• Abacus.ai
• 8090 Partners
• The Dipp
• Hang Technologies
• Naomi Boyer (Influencer/Youtuber, 432K)
• Hospii Inc.
• Bonmo Inc.
—Aug '16–Present

EF Education First
—Sep–Dec '19

Spark! Innovation Fellowship
—Sep '19–May '20

Harvard Innovation Labs | Joro Inc.
—Jun–Aug '19

Off the Cuff Magazine
—Jan '18–May '19

Recognitions

Site of the Day Award
—Mindsparkle Mag, June 17 '20

Editor's Pick 2020
7 Brilliant Portfolios from Visual Designers
—Bestfolios, June '20

EMERGE Portfolio Reviewer
—AIGA Boston

Runner-Up Team
—Adobe x Airbnb Creative Jam

Demo Day Best Design Award
—Spark! UX Innovation Fellowship

Lifetime Member, Honors in Psychology
—Psi Chi International Honor Society