Year: 2020
Duration: 3 weeks
Role: UX researcher, UI designer



---
problem + context
Hotel Day is an award-winning boutique hotel chain with seven main locations in Taiwan.
It distinguishes itself from other hotel chains by providing artist in residence programs, hosting art shows in its gallery spaces, featuring mini libraries, and offering a time capsule postcard service to appeal to an artsy, millenial audience.
Its mission stands that hotels should not be a second thought in travel; it should be the primary focus in order to elevate the travel experience as a whole.
Or as the CEO said, he "hopes that Hotel Day is not just a hotel. But rather, a home away from home for each traveler, where people can forget about their everyday lives and discover little surprises and cultural quirks within this metropolis" (translated).
However, the hotel day website, its main online presence, does not reflect this mission.
The website is lacking hierarchy, static, and disorganized. It is difficult to navigate and understand the overwhelming amount of information it contains with multiple navigation bars and buttons that perform the same actions. The brand's memorable illustrations and mascot that are present in the hotels, the office building, and merchandise line are missing from the website. In addition, its three versions (Chinese, English, Japanese) are not uniform in style, information or language.
Solution + deliverables
Hotel Day is looking to increase its online presence and appeal more closely to its target audience with a new and refreshed website. I took on Hotel Day as a freelance client over the winter break and flew out to Taiwan to coordinate with the branding and development team there. As I also noticed flaws in their translation on the English website, I decided to audit the website and provide a comprehensive and appropriate translation for each description to better convey Hotel Day's mission and values to a wider, English speaking audience.
process
survey + key insights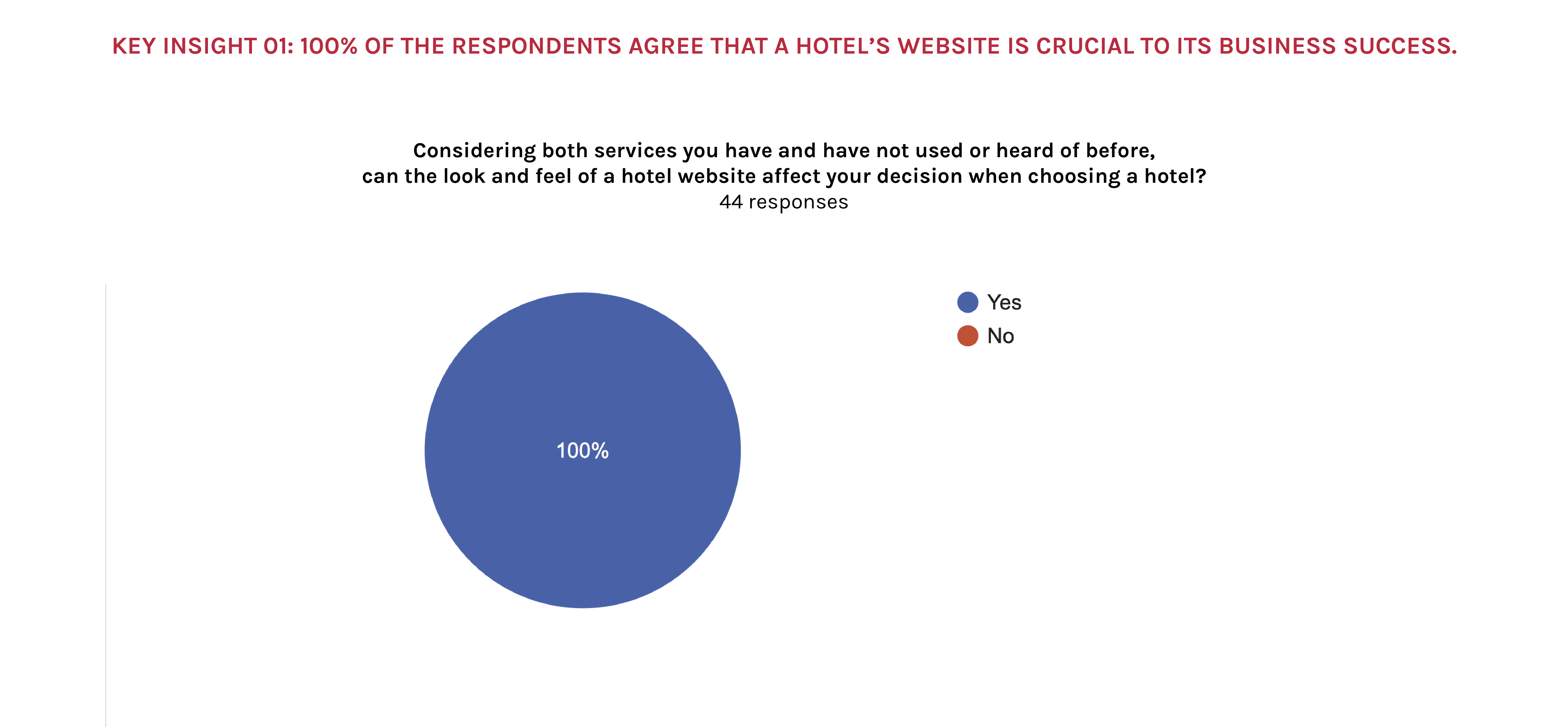 current solution + pain points
I tried going through their website as a regular customer would by browsing the different options offered (by photos, location, price, etc.) and finally getting to the reservation page. However, the journey was long and frustrating, because information is scattered and website navigation is unclear. There are multiple buttons that look and feel very different but functionally do the exact same things.
The current website bores the user, resulting in a high exit rate after just 2 minutes. Most users never get to the reservation page.
Here are some notes I took followed by a summary value proposition below.
*I'm using their Chinese website as the primary reference here as their English and Japanese versions aren't as complete. I am also only analyzing the main long scroll, as other pages are with little information and follow the same style. Those pages as well as the navigation bar will be reorganized in the information architecture.
value proposition
target demographic
competitor analysis
For the competitor analysis, I first looked at small hotel chains and boutique hotels from Taiwan as direct/local competitors. These included
Hotel Royal
(the #1 luxury/boutique hotel in Taiwan),
Eslite Hotel,
Miramar Garden Hotel,
and
Taipei Garden Hotel.
Then, I expanded to exploring the global market, focusing especially on
The Verb Hotel
(Boston),
Casablanca Hotel
(NYC), and
Hoshino Resorts
(Japan).
Overall, I've found that a long scroll page (in a reasonable length) with a simple navigation bar and a full bleed hero followed by a short
about
or
our story
section works the best, and illustration definitely serves as a wow factor. I especially liked that
Hoshino Resorts has an illustrated version of each of their locations as the hero, highlighting local specialties and quirks.
The Verb Hotel also caught my eye with a reel as their hero, featuring the architecture, facilities, people, and experience at their hotel.

Hotel chains in Taiwan, on the other hand, tend to have a more static, text-heavy, simple HTML/CSS look and feel. What they're all lacking is a simple way to locate key information a user would need to reserve or weigh his/her options, such as location, room type, and price. Their navigation is usually a lot more complex, with multiple navigation bars and buttons that lead to the same pages and actions. Sometimes the main action is so hidden, requiring multiple clicks back and forth before the user can complete the task that the travel planning experience can become frustrating.
research synthesis
current information architecture
new information architecture
ideation + wireframing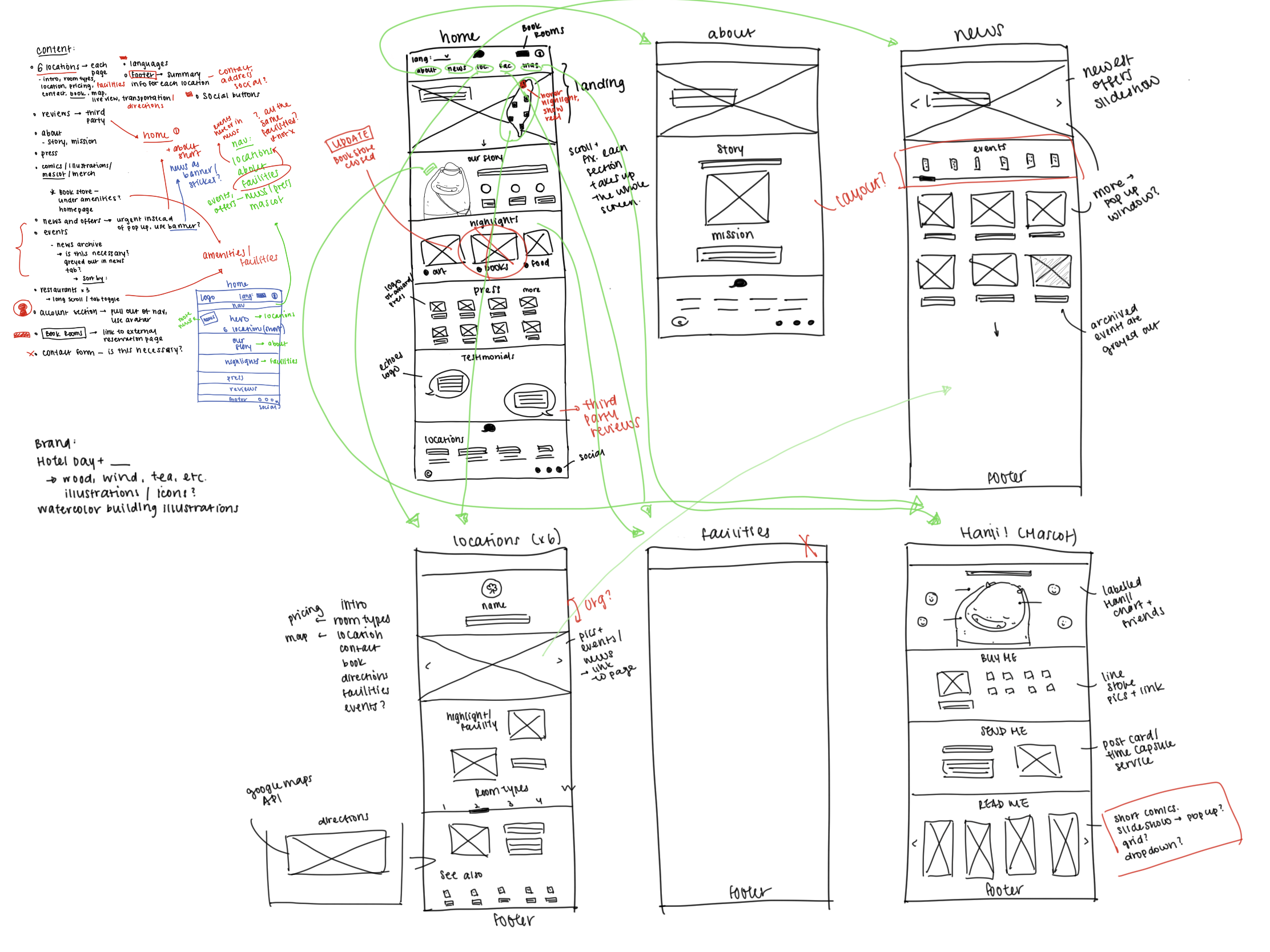 interactive style guide (clickable Tabs)
conclusion + next steps
This project was a lot of firsts. It was my first time working in the hospitality industry, working overseas in a foreign language, and leading the UI/UX end-to-end design process for a website from start to finish (I did mostly apps before for freelance clients). It was a rewarding process that taught me not only the web design process and how technology (HTML/CSS/JS) impacts design decisions on mobile and web platforms, but also the cultural differences between Taiwanese and American companies.
These three weeks were definitely challenging with the time constraint and language barrier, but I really appreciated that everyone at Hotel Day+ was welcoming, helpful, and willing to communicate. More importantly, this company prioritizes design and acknowledges the power design has on a business's success. This is a quality that I will be looking for in companies in the future.
I communicated with the CEO as well as their design, brand, and IT teams throughout this project. All relevant documents have been passed on to the development team. I will provide a link to the new website here once it's live. I can't wait to see this three-week baby of mine come to life, and for hundreds and thousands of travelers from all over the world to see it!
Thank you Hotel Day+ for a wonderful experience in Taiwan and for making all of this possible.
Services

UX Consultation
Web Design (CMS & Responsive)
App Design (Mobile & Web)
Branding & Identity
Art Direction
Illustration
Print Design
Experience

Red Hat | IBM
—May '20–Present

Bain & Company
—May–Dec '18

Fiona Lin Design: Select Clients
• Abacus.ai
• 8090 Partners
• The Dipp
• Hang Technologies
• Naomi Boyer (Influencer/Youtuber, 432K)
• Hospii Inc.
• Bonmo Inc.
—Aug '16–Present

EF Education First
—Sep–Dec '19

Spark! Innovation Fellowship
—Sep '19–May '20

Harvard Innovation Labs | Joro Inc.
—Jun–Aug '19

Off the Cuff Magazine
—Jan '18–May '19

Recognitions

Site of the Day Award
—Mindsparkle Mag, June 17 '20

Editor's Pick 2020
7 Brilliant Portfolios from Visual Designers
—Bestfolios, June '20

EMERGE Portfolio Reviewer
—AIGA Boston

Runner-Up Team
—Adobe x Airbnb Creative Jam

Demo Day Best Design Award
—Spark! UX Innovation Fellowship

Lifetime Member, Honors in Psychology
—Psi Chi International Honor Society